The theme of the multi-platform campaign we developed for Brackenridge is centered around one central idea: #IAMABLE.
We are all able to do a wide variety of things. But people with disabilities tend to be seen as a burden or a charity case, instead of individuals with just as much to contribute to their community as anyone else. Instead of focusing on what people with disabilities are unable to do, we wanted to showcase what they are able to do. Thus, #IAMABLE was born.
We set out to inspire the community, but we ended up inspiring ourselves too.
From the Syndicate Four team, we hope you enjoy watching, listening, and reading our content just as much as we enjoyed creating it.
Video Content
We created a series of two minute mini-documentaries, each profiling a different individual that Brackenridge walks alongside.
Shawn O'Rourke
Meet Shawn. A lovable 36-year-old raised in Twizel who flats with three other guys his own age and has a collection of gold medals in his bedroom. Shawn competed in the swimming at the Special Olympics last year where he won one gold, one silver, and two bronze. He's already training and planning to go again in 2021. Shawn also works for a local gardening business five days a week; he loves it so much he started growing one of his own. By day he may be a gold-medal-winning swimmer with a green thumb, but by night he busts out the turntable and the smoke machine. Shawn's other love is DJing, he preps his playlist, sets up all his equipment, and gets the beats going. Shawn and his flatmates are almost totally independent, with supervisors on rotation to keep an eye out for them and help them reach their goals.
Isaiah Cameron
Meet Isaiah. A creative 17-year-old with Italian roots, born and raised in Christchurch, with a wild imagination and a whopping amount of talent. Isaiah is like every other teenager, he's always got headphones in and tends to have very selective hearing. Also like a lot of teens, school isn't for Isaiah. He learns best and learns quickly when the learning is practical and interesting. Isaiah is mega creative, he's super into music, photography, dancing, drawing, and painting. And once he's mastered one skill, it's on to the next. This year he's started to learn how to play bass and how to sew – making everything from hoodies to backpacks. But it's not all about art, Isaiah loves sport too and likes to shoot hoops and shred the streets on his skateboard. He has a dream to help the homeless and plans to sell his creations to raise money for the cause.
Jesse Ennis-Dobbs
Meet Jesse. A social 26-year-old born in Timaru with a cheeky humour and a strong sense of determination. Jesse was born with cerebral palsy, but he has never let it stop him. He communicates with his dynavox computer, moving a cursor with his knee. Jesse's been with Brackenridge since he was just four years old, and with their support, he's reaching new heights – literally. Jesse's already been skydiving, and he has a dream to one day go to space. He's super social and loves hanging with his mates, and like every other 26-year-old, he spends his spare time watching YouTube and chatting with his friends on Facebook. He's planning to switch up his lifestyle and move into a different home, but that's not his only goal. He's working on improving his written English skills and he wants to get out of the house more and go to outdoor activities and events.
Todd Prendergast
Meet Todd. A vibrant 22-year-old who grew up by the beach in New Brighton and loves to explore, the kind of guy who's almost always smiling. Growing up he gave his Mum and Dad a hard time because he was always running off to find new things, and a decade later, he hasn't changed much. He's super curious and will examine almost every object in a room. He loves his freedom, the feeling of the wind on his face and having lots of room to move. Activities like running, biking, swinging, climbing, and jumping on the trampoline are right up his alley. Also, lemons. He loves lemons. His flatties and friends often get worried that he's gone and left them, but he hasn't really, he's just hunting down a local lemon tree. Todd can't speak, so he uses a collection of objects to represent important activities in his fun-loving life.
Radio Content
We created two four minute radio features, and two 30 second previews of each one.
The first focuses on community engagement for people with disabilities, as well as how rewarding the relationship between Brackenridge and the people they walk alongside is.
The second profiles Isaiah Cameron, focussing on the importance of setting goals, and hoping to dispel the stereotype that a person with a disability does not have dreams or ambitions.
Social Content:
We created a series of seven 30 second videos that could be used on Brackenridge's social media platform once it's set up. Each video is accompanied by a caption telling a bit more of each person's story, and fitting into the #IAMABLE campaign.
Justin
Meet Justin, if he isn't working out, he's working hard. He doesn't recognise words or numbers, but navigates life using colours and logos. He works at Healthy Harvest once a week and loves being part of the wider community.
#IAMABLE #Brackenridge
Jesse
Meet Jesse, he's just the right balance of cheeky and charming. He has cerebral palsy but that doesn't stop him getting stuck in. He has been with Brackenridge for 21 years and communicates from through his dynavox computer.
#IAMABLE #Brackenridge
Isaiah
Meet Isaiah, he's cruisy and creative - always trying his hand at something new. He loves to sew, play in his band and dance. He's just your average teenager with a whole heap of energy.
#IAMABLE #Brackenridge
Todd
Meet Todd, he's quiet but full of energy. He doesn't speak but he's very inquisitive, and always busy! He loves to dance nearly as much as he loves lemons.
#IAMABLE #Brackenridge
Shawn
Meet Shawn, the medal winning swimmer by day and DJ by night. As well as his variety of hobbies he works full-time for a local gardening business.
#IAMABLE #Brackenridge
Nikala & Kirby
Meet Nikala and Kirby, they love to play Netball and have goals on and off the court.
#IAMABLE #Brackenridge
Written Content
As well as the profiles accompanying each documentary, and the captions accompanying each social video, we also created a handy guide on how to interact with people who have a disability. On top of this, we thought it important to write reflective pieces based on our experience working with Brackenridge, discussing the challenges we faced, and how our perceptions have changed since this experience.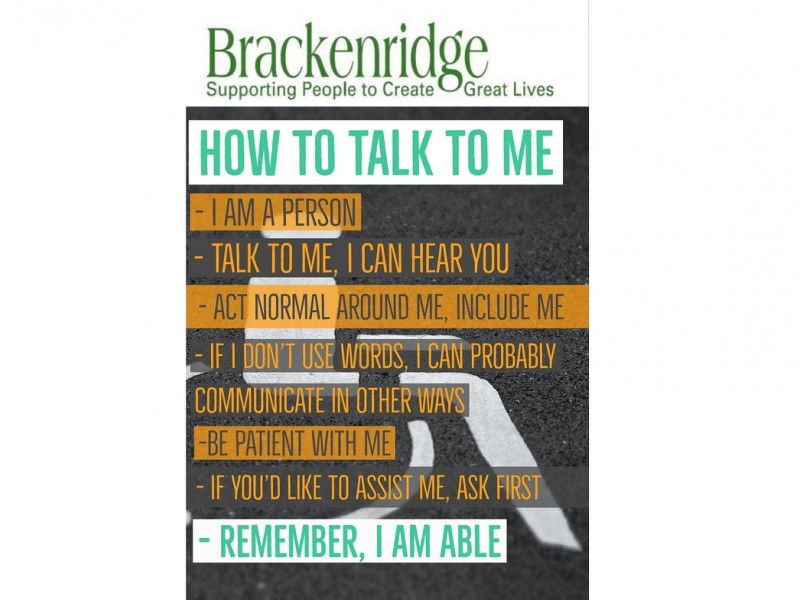 How to talk to me
I AM ABLE.

Remember, I'm a person first – my disability is simply an additional component in my life that needs consideration and creative problem-solving.

Just be normal around me – speak normally, act normally, include me like everyone else.

If I'm deaf – face me, speak clearly – it's likely I can speech read (lip read) or I'll have an interpreter with me. If you can use sign language even a little bit, go for it!

If I'm blind – chances are my hearing will be very well developed. I'd really appreciate you describing things to me, where they are. Pointing won't work.

If I don't use words – it doesn't mean I don't understand what you're saying, or notice if you're treating me like I'm not there. I am here.

If I use a communication device – thank you for waiting while I process my reply.

If I have a learning or cognitive delay, be patient with me – I might not be able to answer you straight away.

If I have developmental/intellectual challenges – just one or two short, clear sentences or instructions at a time is helpful. I can still learn, but I take smaller steps and repeat things more often to reach my goals. Be patient. Changes can be very challenging. Too much noise or too many people can be confusing and overwhelming.

If I use a wheelchair for my mobility – me and my chair need a little extra space. If you'd like to assist me, ask first – don't assume I can't manage. If I have a support person with me, speak directly to me– not just my support. And if you'd like a long conversation, try to find somewhere so everyone can be seated – speaking at eye level is good.
Reflections
Have you ever spoken to someone that doesn't speak?
I hadn't - until I met Jesse. A 26-year-old with cerebral palsy. He is wheelchair bound, non verbal, and has limited movement with his limbs. Jesse uses a communication book to speak, or a computer device that requires him to use his knee against a button to move the cursor.
You don't get taught in school how to interact with people with disabilities, you don't get taught how to best interact with them ever. So until you are put in that situation you don't know how to handle it.
It is easy to overthink, it's easy to find yourself on edge or even a little frightened. It's scary to meet new people, it's even more so when they have completely different ways of moving, thinking and speaking to you. What you must remember is they are people, they are just like you - but different. They want the same things out of life, love, friendship, a job & goals. People with disabilities need to be treated as just people.
There are a few common mistakes which you can make when communicating with someone who is non verbal and in a wheelchair.
The first I discovered was to make sure I talked directly to Jesse - while he couldn't respond quickly it was important he was included in the conversations and not talked over like an object. He is sharp and is always listening, never missing a beat or a joke!
The second was to be patient. I didn't want to rush him, it was easy to feel uncomfortable in the silence as his knee tapped out an answer and the cameras rolled and the room stayed still. This is the way he shares his voice with the world and it was important I didn't take it away from him.
Thirdly I got on his level, I sat at the table so he could see me eye to eye. We were at the same height so it was easier and more comfortable for us to interact.
Lastly, after meeting Jesse I realised he didn't need help. He has different needs but he doesn't need to be wrapped in cotton wool or fussed over- He's a 26 year old man who wants a job and responsibilities. He makes his way through the world he has with fight and determination and more cheek than anyone else I'd ever met.
While our paths are different I am so glad they crossed. Jesse reminded me that although we have different needs we are very much the same. He showed me that even without his voice or movement that our brightest light, shines from within and through our struggles we can still come out smiling.
The day everything I thought I knew went out the window.
After two years in a journalism degree I feel like I have a pretty good grasp on how to interview someone. Then I met Isaiah. A 17-year-old teenager much like any other, Isaiah likes to have his headphones in all the time, enjoys painting and dancing, and tends to respond with one word or less. But unlike a lot of other teenagers, Isaiah has a learning difficulty.
Coming into this project with Brackenridge I was fairly confident that I knew what I was doing. There was a guy with a learning difficulty in my year all through High School and I felt that we got along pretty well, so I figured I should be fine. I knew I needed to keep my questions open ended because in my experience someone with a learning difficulty takes things quite literally, I knew I couldn't ask too many questions about things too far in the future because I'd heard that someone with a learning difficulty has difficulty grasping things that aren't in the here and now, and I knew that I just had to treat him like any other teenager. But entering Isaiah's sewing class I realised I knew nothing at all.
I asked Isaiah if he enjoyed sewing. "Yeah". I asked Isaiah what he enjoyed about sewing. "It's fun". I asked Isaiah what makes it fun. "I enjoy it". At this point I was thrown. In that moment I had to completely reassess how I would normally approach an interview, everything I thought I knew had been thrown out the window. So, I left it there. I chose not to try 'get it back on track' or to try and trick him into saying something really poignant and inspiring, I just, chatted to him. We just, hung out.
And so, this was the attitude I took to the rest of my 'interviews'. I left any agenda at home and let the people I was talking to run the ship. I wasn't there as a journalist anymore, I was there as a friend, someone to hang out with, chat with, and capture their everyday life, thoughts, and feelings.
I had a preconceived idea of what it all meant. I entered Isaiah's class thinking I had a handle on what I had to do and how I had to do it, but I was so focussed on his disability that I forgot that really, I was talking to a teenager first and a person with a learning difficulty second.
I still have no idea what the 'right way' to talk to someone with a learning difficulty is, because honestly, I feel like there isn't one. Just as there is no 'right way' to talk to anyone. Everybody is different, everybody responds to different situations differently, and that's what makes us special.
But instead of focussing on what makes us different, we should focus on what makes us the same. Because at the end of the day, we are all able.